Curriculum content include:
Types of disruption
The concepts of -
Vulnerability
Vigilance
Viability
The focus upon -
See sooner, act faster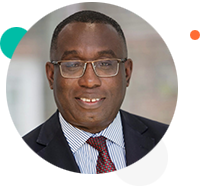 Noel Tagoe
Noel Tagoe is a Professor at Nottingham University Business School. He is also the Chief Executive of Noel Tagoe & Company, a start-up firm that provides advisory, research and training services in Finance, Education, Strategy and Technology.
Until recently Prof Tagoe was the Executive Vice President, Research & Curricula at AICPA-CIMA. Working with partners across the world he developed competency frameworks to ensure the continuing employability of professionals through reskilling and upskilling.
He has advised leading global companies such as Rolls Royce, GE, Aviva, HSBC, UBS, and Unilever on finance transformation, finance talent strategy, digital strategy and managing disruption.
Prof Tagoe held accounting and strategy positions at BP and Elf Aquitaine (now Total Oil), led the financial advisory services unit of KPMG Ghana and taught at leading business schools such as the Michael Smurfit Graduate School of Business (University College Dublin), Manchester Business School (University of Manchester) and Said Business School (University of Oxford).
He was educated at the University of Ghana (undergraduate) and the Universities of Dundee and Oxford (postgraduate). He is a fellow of CIMA.
Gain best practice competences on disruption.
Language English
Duration 90 minutes minimum
Structured Learning units
Engaging Micro lectures
Quizzes and questions after each lecture
Formal assessment
Key take away summaries
Completion certificate